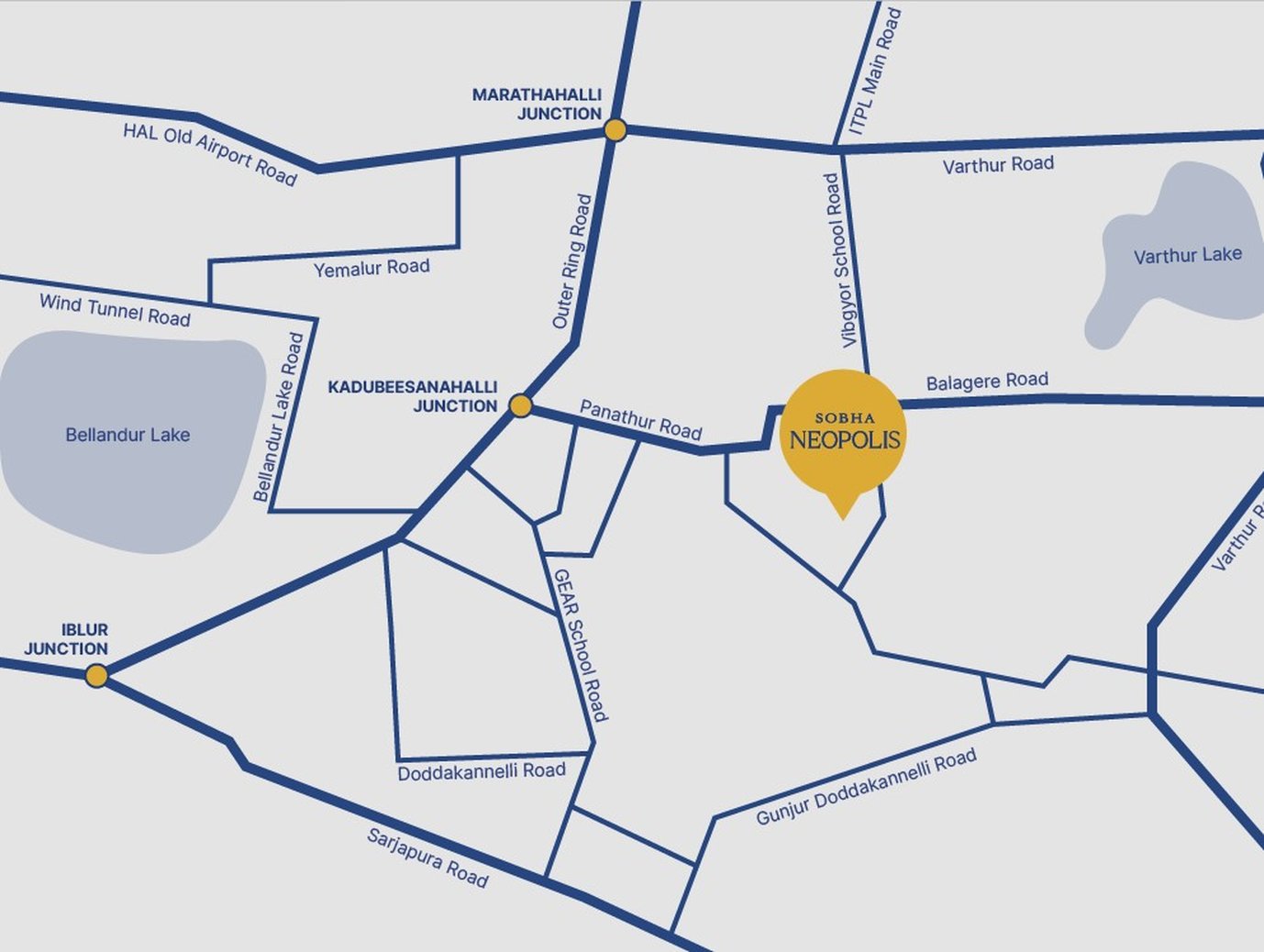 Sobha Neopolis is located near Panathur Main Road, Off Marathahalli-ORR in East Bangalore. The pin code of the location is 560087. The project location offers easy connectivity to major linking roads such as Sarjapur Road, ITPL Main Road, Old Airport Road, Varathur Road, etc. Also, the project location offers a well-developed infrastructure with easy access to reputed schools and hospitals. The resident can have all the basic amenities within arm's reach. Panathur Road is very well- connected to the major parts of the city.
Sobha Neopolis Location is the best thing about this property. Have you ever heard of Sobha Neopolis? It's an amazing property developed by the Sobha Group in Bangalore, India. It's located on Panathur Road, which is a famous area in the city. The property is in the best location, making it a great choice for people looking to buy a home. Sobha Neopolis is located on Panathur Road in East Bangalore.
One of the best things about Sobha Neopolis is its closeness to various amenities. You don't have to travel far to find schools, hospitals, shopping malls, and other essential facilities. Everything you need is just a stone's throw away! If you're a student, you'll be delighted to know that there are many reputed schools and colleges near Sobha Neopolis. So, you won't have to travel much time to get to your classes. Isn't that convenient? For those who love shopping and entertainment, many malls and theaters are nearby. You can enjoy your weekends with friends and family, watching the latest movies. It's always fun to have so many options nearby!
Moreover, Sobha Neopolis Address is well-connected to different parts of the city. You can easily access public transportation like buses or even hire a taxi or auto-rickshaw to reach your destination. Traveling becomes easy and saves you time and effort. Safety is a top priority for everyone, and the builder takes that seriously. The property is equipped with the best security systems and has trained personnel on duty around the clock. You can feel secure and at peace knowing that your home is in a safe environment. The natural beauty surrounding the property is awe-inspiring. The developers have taken special care to preserve the greenery and create beautiful landscapes within the property. It's like living in a mini garden, where you can breathe in fresh air and enjoy the beauty of nature.
There are also various recreational amenities available within the premises of Sobha Neopolis Location. You can take a refreshing dip in the swimming pool, play sports with your friends in the designated areas, or simply relax in the beautifully designed gardens. It's a perfect place to unwind after a long day! The Sobha Neopolis Location are designed to provide comfort and luxury to the residents. The spacious rooms, well-planned layouts, and modern amenities make living here a delightful experience. It's like having your dream home come true! Sobha Neopolis Location Map will be available soon.
Benefits of Sobha Neopolis Location
Sobha Neopolis Panathur Road is not just any property; it's a hidden gem. Choosing to live here will be the best decision of your life. Let's look into the benefits of making Sobha Neopolis Address your permanent address:
Everything at your doorstep: The property has everything nearby. It's close to schools, hospitals, shops, restaurants, and entertainment options. This means you don't have to go far to get what you need, which saves you time and effort.
Schools: Good schools nearby are important for families with children. Sobha Neopolis is surrounded by great schools and colleges, so your kids can get a good education without traveling long distances. This makes it easier for them to focus on their studies and other activities.
Connectivity: Sobha Neopolis Location is also great, with good connections to other parts of Bangalore. It's easy to get around because it's close to major roads and highways. You can reach your destination easily, whether you use public transport or your vehicle.
Offices: Bangalore is a big city with lots of offices. The property is near many business parks and offices, which is great for people looking for work. Living here can reduce your traveling time to the office.
Safety: Safety is important for the builder. That's why the builder has installed CCTV cameras on the property. This gives you peace of mind and lets you focus on enjoying your life with your loved ones.
Sobha Neopolis also offers many facilities, such as:
Club House
Outdoor Courts
Squash Court
Spa
Snooker
Board Games
Multipurpose Hall
Gymnasium
Swimming Pool
Jogging Track
Basement Parking - 2Level
Mixed Aged Kids Playground
Bangalore is a famous place due to its weather. The real estate market is growing here. Many people choose this city to live in as it helps them in many ways. The Sobha Neopolis Address has many facilities nearby, like schools, colleges, hospitals, etc. There is everything you need here. The property is the best place to live, which offers dreamy homes. Sobha Limited is one of the best builders in India. It has launched many projects in Bangalore. The company has received many awards for its work. Sobha Neopolis Location Map will be available soon.