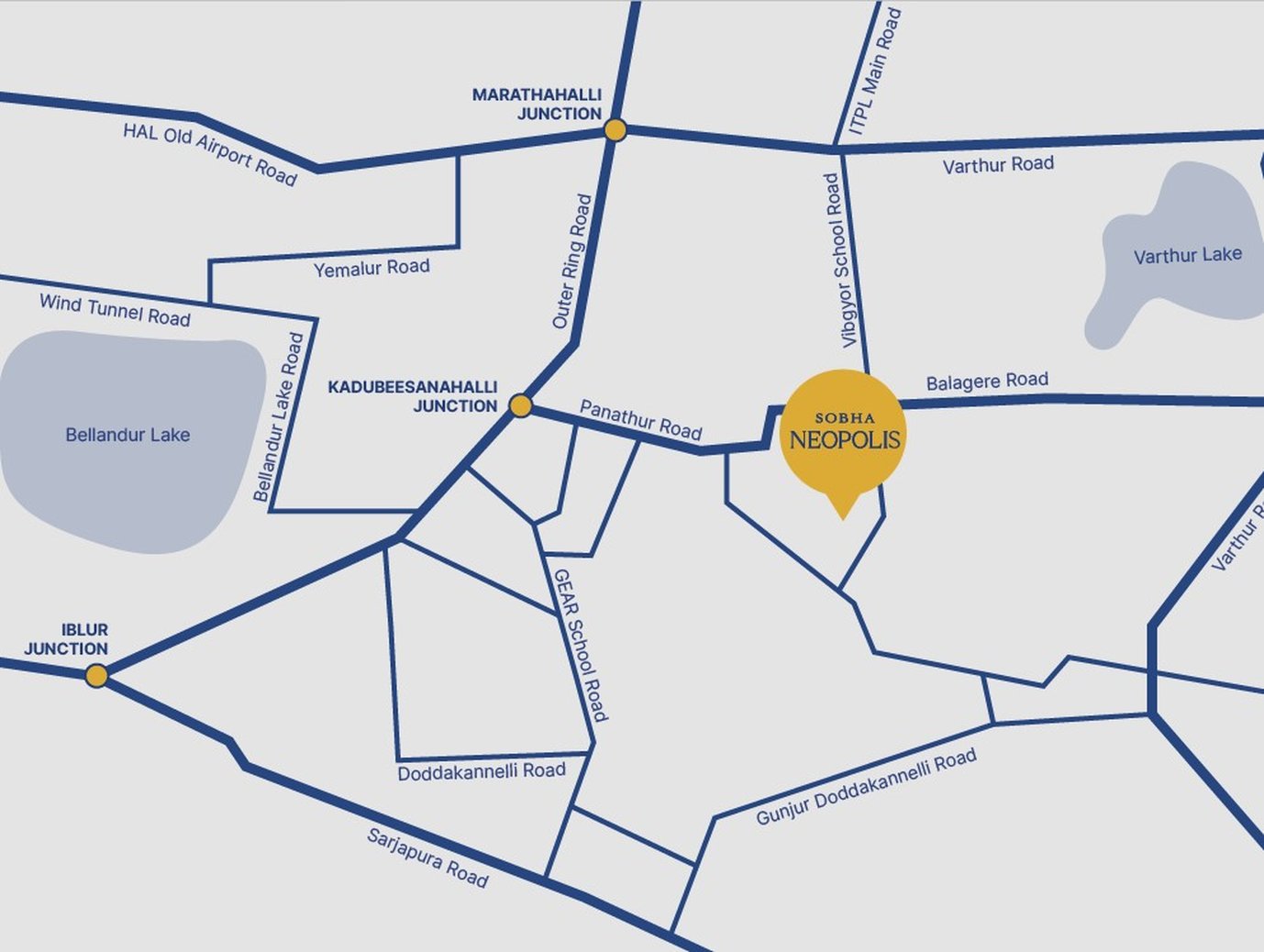 Sobha Limited, the renowned real estate developer, delivering excellent properties for years in residential and commercial segments, is launching another posh set of apartments, Sobha Neopolis, sprawling across a massive 26.5 acres with 2, 3, 3.5, and 4 bedroom sets of elegant 1600 apartments in neatly demarcated towers with 2B+G+18 floors. Sobha Neopolis location is in the prime Panathur Road, East Bangalore. With an array of options to choose from in terms of prices, layouts, and usable area sizes ranging from 850 - 1753 sq. ft., are available with rich architecture, specifications, spacious interiors with ample natural light and ventilation, and unhindered views of the landscapes and scenics in the confines. Crafted for the privileged few, immaculately designed property premises, with green spaces, water bodies, and luxe and world-class leisure amenities, facilities, and conveniences, will elevate the dwelling experience of the residents holistically. The starting price of these unique abodes is INR 1.44 crores. Currently, a pre-launch project, further details are awaited from the builder.
Bangalore is reputed and popular for IT and real estate, and it has become a preferred metropolis for people to choose this place to enhance their living standards and work prospects. The city and suburbs of Bangalore, especially, have the modern-day, planned, and better physical and social framework, an ideal blend of the multicultural socio-economic populace, lively vibe, a lot of natural greenery and waterbodies, and availability of varied and contemporary avenues to fulfill all the livelihood and lifestyle aspirations of individuals and their families. Sobha Neopolis is located in one of the established and prominent suburbs, Panathur Road, East Bangalore. Modern and efficient physical and social infra exists, and all the prerequisites for a community to sustain itself are easily available and accessible. The key areas like Whitefield, Electronic City, Sarjapur Road, Marathalli, Outer Ring Road, Varthur, etc., are in proximity. Also, the road services seamlessly connect to the entire city, and the upcoming ORR metro network will further ease the commute, with the nearest metro stations just 1 km away. The presence of Panathur Lake and some famous parks are significant places of attraction here. The vital employment zones are within comfortable commute distance, and some of the brilliant housing, from villas and apartments to plots developed by the top realtors, are in the locality; education, shopping, healthcare, banking, entertainment, dining, hospitality, grooming, and sundry - the daily, emergency, and luxury needs are a part of the neighbourhood. The dwellers can boast of Sobha Neopolis location, an ideal one based in Panathur Road.
A futuristic and luxuriant apartment from a top developer with exquisite architecture, interiors, premises, facilities, features, amenities, etc., along with reasonable pricing at a prominent suburb - Sobha Neopolis is just the sublime residence for the sophisticated society of today who desire affluence and lavish spaces in their homes.
Incorporated on 7th August 1995, Sobha Limited, in 1997, launched its first residential project Sobha Sapphire in Bangalore and first plotted development, Harishree Gardens, in Coimbatore. In 1998, with ISO 9001 certification, it was the first real estate company to acquire this compliance. In 2000, the company bagged its first contractual project of the Corporate Block for Infosys Technologies Limited, Bangalore. In 2006, through an IPO, it got publicly listed and raised INR 570 crores. Truly living its adage "passion at work," the brand strives towards creating outstanding products and workmanship through innovation, use of technology, and transparency. Sobha has many awards and recognitions from distinguished institutions for its contributions to the realty industry.