Sobha Neopolis Panathur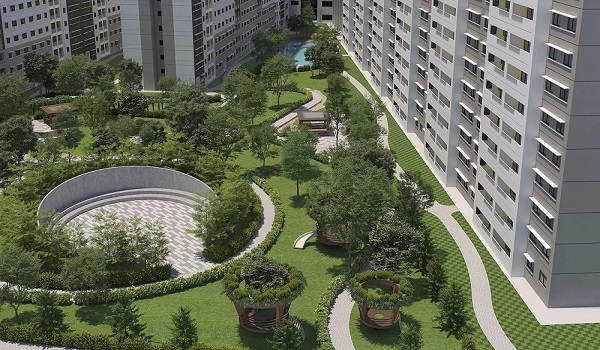 Sobha Neopolis is a new launch by Sobha Limited, the leading real estate developer, delivering outstanding properties for years in residential and commercial segments. Sobha Neopolis Panathur is another lavish set of apartments, set to be nestled in a vast development area of 26.5 acres on Panathur Road, East Bangalore. Variants of 2, 3, 3.5, and 4 bedroom sets of exquisite 1600 residences will be laid in decently demarcated towers with 2B+G+18 floors. With a range of options to be available choose from in prices, layouts, and usable area dimensions ranging from 850 sq. ft. to 1753 sq. ft., the buyers will be spoilt with the fine architecture, specifications, interiors with extensive spaces, abundant natural light, and ventilation, and unobstructed views of the landscapes and beauty within the property confines. Meticulously designed for the upper-crest, immaculately planned property premises sprawling with greenery, water bodies, and choicest and exhaustive leisure amenities, facilities, and conveniences, which together will transport the dwellers to a land of pure ecstasy. The starting price of these grand Sobha Neopolis residences is INR 1.44 crores. It is still a pre-launch project, and further details will soon be divulged by the builder.
Sobha Neopolis Panathur is located in one of the prominent and developed suburbs of East Bangalore, Panathur Road. This place boasts of high-tech and systematic physical and social infrastructure and the availability of livelihood and lifestyle avenues in and around the locality. Some of the crucial areas, like Whitefield, Electronic City, Sarjapur Road, Marathalli, Outer Ring Road, Varthur, etc., are nearby. The seamless road services connecting to the rest of the city and the upcoming ORR metro network will further facilitate the commutation, and the closest metro stations are hardly 1 km away. Importantly, landmark nature attractions like Panathur Lake and some reputed parks are here. The reputed employment hubs are within easy reach, and some of the excellent housing projects, like apartments, villas, and plots developed by the top realtors, are developed on Panathur Road. Education, healthcare, banking, shopping, dining, entertainment, hospitality, grooming, and sundry - the daily, emergency, and luxury needs are all accessible here. Sobha Neopolis Panathur has a very important location advantage, and the dwellers can lead a comfortable and relaxed life here.
Sobha Neopolis Panathur is indeed an extremely state-of-the-art and elegant apartment enclave from the top developer with impressive architecture, interiors, premises, facilities, features, amenities, etc., along with the benefits of community living, priced reasonably and at a prime suburb, which will fulfill all the needs and fancies of the residents in all aspects. Sobha Neopolis will be carefully crafted for the affluent who prefer residences that are niche and luxe and where all comforts of life are within their easy reach and which they can boastfully flaunt of.
Sobha Limited Blogs